Shocking! Evil Teacher Prays 'Only Trumptards Died' in Las Vegas Shootings!
I can't believe the hate in some people's hearts. The hate some people spew is unbelievable. The people shot and killed in Las Vegas last night during the Route 91 Harvest music festival, didn't deserve this.
One Twitter user signed by the name @TheResistANNce, posted a horrible tweet saying: "Lots of white Trump supporters in Las Vegas at Route 91 watching Jason aldean. Pray only Trumptards died #prayforvegas." Moments later she deleted her post and her account but it was too late! Her post stayed documented. The very disturbing thing about all this besides what she wrote is the fact that this woman is a teacher.
They claim they are the ones that care, diversity, love & respect.

Its false. They're evil.

— Cynthia Schnepp (@ShantiUniverse) October 2, 2017
How can anyone have so much animosity in their heart and soul to say something so despicable about another human being, the only reason being a difference of politics. This woman is a mother and a teacher and wants people to die? Some of the things I've read from teachers mouths makes me wonder what kids are learning. But the hate didn't stop here!
Will Trump and NRA supporters dedicate his next golf tournament trophy to victims of Las Vegas shooting? #enough

— Sherri Masson (@MassonSher) October 2, 2017
In Las Vegas, another #Trump Fan … NOT an immigrant or Muslim or Liberal, just a 'good ole boy' .. does his thing!

— Watergate_THIS! (@TrikeeOnceMore) October 2, 2017
Can't wait to hear Trump say there were decent people on both sides of the Las Vegas shooting.

— Hayley (@HayKay230) October 2, 2017
I wonder what kind of hate makes their tweets such a gruesome statement? And yet they wonder why their beloved leftist loons keep losing elections. The left gets worse all the time. They spread more hate & division using a tragedy! They have zero decency for human life and are saying what so many on the left have been programmed to believe. But, the people saying these things are just as sick as the person who pulled the trigger.
Anyone who is not yet convinced that liberalism is a mental disorder hasn't been on social media since President Trump's inauguration. Every day the hateful rhetoric is ramped up by liberals who are no longer able to function in everyday society since they've been afflicted with Trump derangement syndrome." We can no longer afford to let a democratic liberal be in control of America ever again if we are to survive.
What do you think? Scroll down to leave a comment below!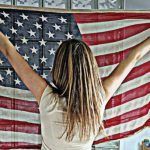 Natalie D. is an American conservative writer! Natalie has described herself as a polemicist who likes to "stir up the pot," and does not "pretend to be impartial or balanced, as broadcasters do," drawing criticism from the left, and sometimes from the right. As a passionate journalist, she works relentlessly to uncover the corruption happening in Washington.She is a "constitutional conservative".