Right After Trump Arrived in Texas For A First Hand Look,Texas Governor Abbot Gave Him An Amazing Gift!
Almost immediately after the storm of "epic proportions" torn Texas, President Trump did his best in an effort to help all these people in need. He didn't waste any time and went to Texas for a first-hand look at the devastation.
Accompanied by his wife Melania, President Trump arrived in Corpus Christi in order to give his assistance and support for recovery after the storm torn the region. At the airport, Trump and Melania were greeted by Texas Gov. Greg Abbott while some people lined roads near the airport held American flags and waved as the motorcade passed by.
Luckily Texas Gov. Greg Abbott recognized Trump's efforts so he congratulates for the fast response.
The governor said Trump was "extremely professional, very helpful" in moving quickly to grant his request Friday for an immediate disaster declaration, which triggers additional federal assistance to aggrieved areas.
Also, he commended President Donald Trump and the federal government for its response to Hurricane Harvey, describing an "A-plus" effort with the storm only just beginning to take its catastrophic toll.
He said: "Texas has been tested, but our response to this has been very effective because of the very effective way the President and his staff responded to this challenge."
WATCH: President #Trump thanked #Texas Governor Greg Abbott and other officials for their #Harvey relief efforts. pic.twitter.com/SRdHPyWuHB

— Fox News (@FoxNews) 29 August 2017
To this Trump answered: "We won't say congratulations. We don't want to do that. We don't want to congratulate," said Trump. "We'll congratulate each other when it's all finished."
This is yet another proof we have a president that cares and loves the United States and the people in it. We are so proud of our president and his wife for going to Texas so quickly to help out.
This is what everyone should do. Come together and help one another. This is a time that we need to all unite together in whatever way that we can help. We are all Americans!
God bless him God bless Texas and God bless America. Prayers to all the victims in Texas from the storm.
Do you support the President helping out Texas? Share this article if you do!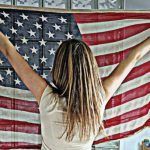 Natalie D. is an American conservative writer! Natalie has described herself as a polemicist who likes to "stir up the pot," and does not "pretend to be impartial or balanced, as broadcasters do," drawing criticism from the left, and sometimes from the right. As a passionate journalist, she works relentlessly to uncover the corruption happening in Washington.She is a "constitutional conservative".