Puerto Rican Congress Delegate Exposes The One Thing About Trump The Left Was Fearing The Most (Video)
Every American knows that Trump is doing a good job! He was hit with three disasters in a very short period of time and he took care of all three of them in a timely manner. But, no matter what he does, the liberals will still make up lies about him. This is why it's really refreshing to hear someone praise our President instead of the usual bashing he gets. Jennifer Gonzalez-Colon, the Puerto Rican delegate in the House of Representatives, knows what is going on and gives President Trump credit for getting help to the people.
At the end…When people speak truthfully it always comes out positive for Trump.
In an interview with USA Today on Saturday, the Puerto Rican delegate in the House of Representatives Jennifer Gonzalez-Colon praised President Trump's relief efforts on the island in the wake of Hurricane Maria.
Gonzalez-Colon said: "I will tell you that everything that the president said that he was going to send to the island, it's getting there. The resources are there. The help is there."
"There are things that I never do, but, you know, the president is always out of the script."
"And I think that's the main difference. People are used to having politicians that are politically correct, that follow the script, and he's not like that. I mean, what you see is what you get and that's the way he is."
She added: "He instructed all his cabinet members to treat Puerto Rico as a state, in terms of this hurricane. I mean, that kind of instruction is important to have access to all those programs."
Thank you for sharing this!!! You are right, there is no pretense with this president…..what you see is what you get!!
One thing is certain… President Trump says what he means – and means what he says!! Thank you, Jennifer, for revealing the truth about our President helping in Puerto Rico!! That's what he does – He helps!!
What do you think? Scroll down to leave a comment below!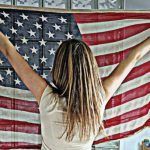 Natalie D. is an American conservative writer! Natalie has described herself as a polemicist who likes to "stir up the pot," and does not "pretend to be impartial or balanced, as broadcasters do," drawing criticism from the left, and sometimes from the right. As a passionate journalist, she works relentlessly to uncover the corruption happening in Washington.She is a "constitutional conservative".