President Trump Freed Ex-CIA Officer After She Has Been Abandoned By Obama's Administration
It's hard to believe a former "President" would abandon one of our intelligence officers. But it looks like Obama had wrong priorities and was too busy golfing and taken million dollar vacations instead of helping people who need help!
Thank God we now have a President who looks out for Americans.
A former CIA case officer who faced extradition to Italy for her alleged role in the rendition of a radical Egyptian Muslim cleric is now free after Trump administration officials intervened, according to a source close to the discussions.
CIA Director Mike Pompeo lobbied his counterparts in Portugal and Italy on behalf of Sabrina De Sousa who was convicted in absentia along with 25 other Americans after the post-9/11 rendition of an Egyptian cleric. He was later found guilty on terrorism charges. The CIA had no comment on the case.
"I had an arrest warrant issued against me 11 long years ago that prevented me from seeing members of my immediate family in Europe," she told Fox News. "Finally, I can rest with the assurance there is no warrant hanging over my head."
"In six short weeks, the Trump administration has given me more hope and support than I ever received in the past eight years from the Obama Administration or the CIA, my former employer. I had feared that the country I signed up with in good faith to serve had abandoned me," De Sousa said.
She said:"I want to extend my deepest appreciation to the Trump administration for all their efforts on my behalf. Without their support, I would be spending tonight in an Italian prison."
This is great News! This is what happens when true Americans elect a man of the People… American People!
The difference between Trump and Obama is that Trump puts America first. End of story. Trump steps up and saves an American agent that Obama was ignoring and was going to allow her to go to prison in a foreign land.
So she basically spits in Obamas's face for abandoning her! But she has every right to do it if you ask me!
With his actions, President Trump proved he meant what he said on the campaign trail and is following through marvelously on his promises.
Thank God for President Trump!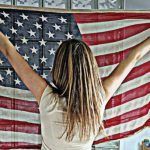 Natalie D. is an American conservative writer! Natalie has described herself as a polemicist who likes to "stir up the pot," and does not "pretend to be impartial or balanced, as broadcasters do," drawing criticism from the left, and sometimes from the right. As a passionate journalist, she works relentlessly to uncover the corruption happening in Washington.She is a "constitutional conservative".