President Trump "Absolutely" Has Confidence In Jeff Sessions
Jeff Sessions has integrity and loyalty to President Trump, which the American people hold in high respect! We love this Twosome Team because we need it to Make America Great Again.
Sadly, the globalist liberals hate Sessions, his law and order stance and his illegal immigrant program.
On Thursday, Former FBI Director James Comey delivered his testimony in front of The Senate Intelligence Committee. During the testimony, Comey went after Attorney General Jeff Sessions, by saying that Sessions knowingly let Trump request the Flynn investigation be dropped.
However, President Trump had enough of these allegations. After a week of rumors wheater President Trump should or should not fire Jeff Sessions, the White House put an end to all speculations.
A White House spokeswoman Sarah Sanders said that President Donald Trump has confidence in Attorney General Jeff Sessions.
Sanders told reporters that President Trump "absolutely" has confidence in Sessions and the rest of his Cabinet.
Thank you for clearing this up Mr. President. Jeff Sessions is not going anywhere and neither is President Trump. Now we'll let Sessions to do his job! Go after "all" violators of the laws of the land.
Jeff Sessions is principled, intelligent with integrity and loyalty to President Trump…what more could we ask for in an Attorney General? Sadly, the Media and Liberals are doing everything to make the Trump team look awful. They tell so many lies they can't remember what the truth is.
The only thing we want to hear from now on is that Sessions is seating grand juries for Obama and the rest of his administration.
Do you support President Trump's decision? Do you still trust Sessions? Share your opinion in the comment section below.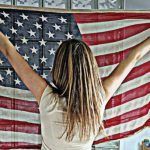 Natalie D. is an American conservative writer! Natalie has described herself as a polemicist who likes to "stir up the pot," and does not "pretend to be impartial or balanced, as broadcasters do," drawing criticism from the left, and sometimes from the right. As a passionate journalist, she works relentlessly to uncover the corruption happening in Washington.She is a "constitutional conservative".