Police Officer Stopped A Heavily-Armed Man Named Mohamad From Shooting Up A Street Fair In Fargo – No MSM coverage
Mohamad Barakat was found with 1,800 rounds, multiple guns and a hand grenade in his vehicle.
North Dakota officials hinted Wednesday that the Fargo man who ambushed police officers Friday — critically injuring two officers and killing one — was possibly planning a mass shooting in the area and that the officer who shot him was the last man standing between the gunman and "some pretty horrific acts," according to Fargo Police Chief David Zibolski.
Police and fire officials were responding to a car crash on a busy street Friday afternoon when Mohamad Barakat, 37, started firing at officers, killing St. Michael native Jake Wallin.
Barakat, a 37-year-old who briefly trained as an emergency responder at a nearby community college, had no criminal record. No social media presence.
But then he saw the collision. With police and firefighters tied up helping, Barakat began "stalking his way in and sizing up his opportunity," North Dakota Attorney General Drew Wrigley told reporters Wednesday in the most detailed update yet.
Barakat parked, watching for minutes until the officers walked away, about 15 to 20 feet (5 to 6 meters) from him. Then he lifted a .223-caliber rifle out of his car window and began firing in what Wrigley called "an absolute ambush" and "a murderous barrage of fire."
The officers "had no time" to reach for their holstered guns with Barakat's fusillade "so rapid," Wrigley said.
Barakat, who lived in an apartment 2 miles (3 kilometers) away, was using a double-stacked magazine. He killed Officer Jake Wallin, 23, who served in Iraq and Afghanistan with the Minnesota Army National Guard. The barrage also left Officers Andrew Dotas and Tyler Hawes critically wounded.
Barakat had 1,800 rounds, multiple guns and a hand grenade in his vehicle, North Dakota Attorney General Drew Wrigley said Wednesday at a news conference regarding the use of deadly force by Fargo officer Zachary Robinson.
At the briefing Wednesday, a reporter asked Wrigley if he thought there was the potential for a mass shooting given the use of words like "great carnage" and because there were various fairs in the region on Friday.
"I won't go any further but to say, yes, there was," Wrigley said. "I said to officer Robinson upstairs, it's absolutely true [that] he was literally the last man standing between what was coming next. And you can see what this assailant was armed for."
Here's a video showing how packed the Fargo street fair is:
This man saved a thousand lives!
Did you hear about the shooting in North Dakota? No? Why not?
Don't we have national news corporations?
Let's see: A man had a grenade, three semi-auto rifles with 53 magazines, four handguns with at least 10 magazines, and nearly 2,000 rounds of ammo… you'd think CNN, ABC, CBS, and NBC would be all over this story to push gun control!!
Ah, but the hero was a white cop, the villain was a man named Mohamad, and the people in danger were in a conservative town.
OPINION: This article contains commentary which reflects the author's opinion
Reminder: The purpose of the articles that you will find on this website, are to EDUCATE, not to disinform or grow hate and anger!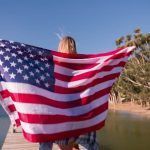 Michelle is American conservative author she is committed to the constitutional principles of individual freedom, economic liberty, limited government, personal responsibility, and traditional values. She is a libertarian and provocateur who believes in freedom and liberty for all Americans. As a passionate journalist, she works relentlessly to uncover the corruption happening in Washington, while exposing politicians and individuals who wish to do us harm.