Paul Ryan Has No Answer: Why House Is Working Only 8 Days In April When There Is So Much On Trump's Agenda
Speaker Paul Ryan went on with Tucker Carlson on Wednesday to discuss the current healthcare law that was proposed on Tuesday. During the conversation, Carson asked Paul Ryan why lawmakers are only in session for eight days in April if there is so much to be done with Donald Trump's agenda.

"We're 47 days into the Trump administration and really nothing has gone through the Congress," Carlson told Ryan Wednesday night. "Really at this point during the Obama administration eight years ago they passed all kinds of stuff…"
"Oh, I disagree with that," Ryan cut in. "For the first two months, we have this tool called the Congressional Review Act, which is time sensitive. You can only use it for so long and what we're doing is we're going back and getting Obama-era regulations and repealing those regulations and sending that bill to the Senate. We've done about 15 here in the house — remember the coal one?"
"How many pieces of legislation have been signed by the president into law?" Carlson asked. "Any?"
"These are very good questions," Ryan said. "We have the Senate now, they have to approve Donald Trump's cabinet. They have to put 1,200 people through the Senate to populate the Trump government, and Chuck Schumer can burn up to 30 hours per person."
Then Carlson Tacker brought up a question why the House is only in session for eight days in April?
He said "There's a lot to do. Nothing meaningful really has — you can say I went to a bill signing about coal — but there's a lot of stuff that hasn't been done that (Trump) promised and it hasn't made its way through Congress. It's not all your fault, obviously, but eight days is not a lot of time to be working in an entire month. Why?"
"The real why is how long is because how long it takes to pass things through the Senate."
Time for us to send a message to congress. They need to get to work and actually accomplish something instead of slowing down or outright impeding all progress just because their candidate didn't win.
If congress is only going to work eight days, then we should only pay them for eight days. Congress explains it has much to do, it's a shame it is not for the people that pay their salaries.
Come on, Ryan, it's time to start working for the citizens, not for the special interest groups, or the Republicans.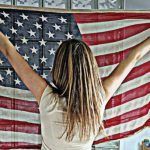 Natalie D. is an American conservative writer! Natalie has described herself as a polemicist who likes to "stir up the pot," and does not "pretend to be impartial or balanced, as broadcasters do," drawing criticism from the left, and sometimes from the right. As a passionate journalist, she works relentlessly to uncover the corruption happening in Washington.She is a "constitutional conservative".