Patriotic NFL Legend Jim Brown Just Sacrificed EVERYTHING With What He Said About Trump
Most Americans don't see colors they see people. It is time for people to come together as a nation and work for the good of all. NFL great Jim Brown spoke of his admiration for Donald Trump. He supported President Trump and said that we should all give Trump a chance.
Brown said: "I think that things are being shaken up. I think that people are being provoked to come out with their real feelings. I think that it looks negative a great degree, but I think that any time you put a person in a position of responsibility that their good side can come out. So, Donald is going to either be a great leader and shake things up the right way, or he's going to shake things up the wrong way and that's going to make the great people come out and resist it."
"So, it's just not going to be neutral. It's not going to lay dead. It's going to be very provocative and I'm hoping it will be provocative in a very positive way. So, I'm pulling for the president. He is the president, and I know that he is going to be for all the people and I hope that that bravado that he presents becomes a positive energy so that we could all get behind doing the right thing."
So many people are wrapped up so much in themselves they won't give him a chance. All this hate is destroying everything our forefathers try to make good and free. What happened to respect each other and doing the right thing BECAUSE it is the right thing to do?
But, finally a voice of sanity in the wilderness. Way to go Mr. Brown. Thank you for your honest opinion..hope more young people listen to you.
Some men are great at everything they do, Jim Brown is one of those men.
What do you think? SHARE this article if you think Jim Brown is Right about President Trump!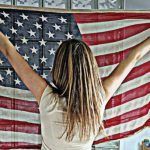 Natalie D. is an American conservative writer! Natalie has described herself as a polemicist who likes to "stir up the pot," and does not "pretend to be impartial or balanced, as broadcasters do," drawing criticism from the left, and sometimes from the right. As a passionate journalist, she works relentlessly to uncover the corruption happening in Washington.She is a "constitutional conservative".