Palestinian Supporters Rip Down USA Flag In NYC But That's Not The Worst Thing In This Video
Pro-Palestinian demonstrators attempted to force their way into New York's Grand Central Terminal on Friday night, smashing several windows and scuffling with police, as part of a protest that also saw American flags torn down and an Israeli flag burned.
The pro-Palestinian rally began at 5 p.m. Friday with over a thousand individuals marching through the streets. Some were seen tearing down posters of the hostages being held by Hamas terrorists and crumbling them up while other demonstrators burned an Israeli flag.
According to an Instagram post from pro-Palestinian organizations Within Our Lifetime and the City University of New York for Palestine, the protest was to "flood Manhattan for Gaza."
Video from the protest Friday night showed one protester climbing up a streetpost to tear down American flags and United Nations flags while hordes of protesters gathered and cheered at the base.
Video below:
The NYPD does nothing. The FBI does nothing. The DOJ does nothing.

Desecrating the flag, spitting on America, making a mockery of its people is the new civil liberty.

— Citizen Free Press (@CitizenFreePres) November 11, 2023
Here's another video from a wider angle:
Palestinian supporters rip down USA flag in NYC. Cops just watching. pic.twitter.com/ojcztgwelz

— Citizen Free Press (@CitizenFreePres) November 11, 2023
But that's not the worst part in this video!
Just look at the NYPD reaction!
Yeap, they did nothing and let the terrorists humiliate America!
OPINION: This article contains commentary which reflects the author's opinion
Reminder: The purpose of the articles that you will find on this website, are to EDUCATE, not to disinform or grow hate and anger!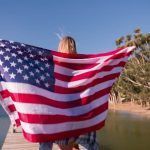 Michelle is American conservative author she is committed to the constitutional principles of individual freedom, economic liberty, limited government, personal responsibility, and traditional values. She is a libertarian and provocateur who believes in freedom and liberty for all Americans. As a passionate journalist, she works relentlessly to uncover the corruption happening in Washington, while exposing politicians and individuals who wish to do us harm.