NFL Hall of Famer Franco Harris Gives An "Old School" Solution To NFL's Kapernick Problem
Everybody knows that Colin Kaepernick's polarizing decision to protest the national anthem was a stupid thing to do! He should have known that actions have consequences, some good, some not so good. This falls on the NOT side because honoring and respect the flag of our nation is also paying respect for those who paid the ultimate sacrifice to keep of nation safe and free.
In an interview with Mediate, 4 times super bowl winner Franco Harris was asked about NFL players refusing to stand for the national anthem. What NFL Hall of Famer Harris said comes as no surprise at all! He said that in his day national anthem protests would not have been tolerated.
Harris said: "We had two of the meanest guys in football, who I think would've dealt with it that way, and that would've been Joe Greene and Jack Lambert."
He continued: "If someone has a certain stance they want to take, that's fine. When he puts that suit on, it's not just about him, his position and the things that he wants to back and wants to believe in because the team has to come first."
That is right!
I find it amusing that all these spoiled, rich and, in this case, mediocre athletes are being slammed for their actions by real athletes who grew up before Civil Rights when we actually had segregation and actually had something to complain about.
The players in all sports from the 70's had respect for the game they were playing and were happy to be making "big money" to do so…Now you just have a bunch of spoiled lucky "'privileged" characters that think it is cool to pander to the social issues of the day….it is nonsense…ask Hollyweird how good they are doing these days poking their noses in politics?
Do you support Franco Harris on this one? Scroll down to leave a comment below.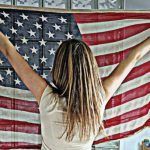 Natalie D. is an American conservative writer! Natalie has described herself as a polemicist who likes to "stir up the pot," and does not "pretend to be impartial or balanced, as broadcasters do," drawing criticism from the left, and sometimes from the right. As a passionate journalist, she works relentlessly to uncover the corruption happening in Washington.She is a "constitutional conservative".