New Documents Have Leaked, Linking Hillary To Another Crime
After Hillary Clinton lost the presidential election, we all thought that s the last time we see or hear about her. However, we were wrong.
It was reported that new documents that link Hillary to yet another crime have leaked, and this time she is not alone. Apparently, her daughter Chelsea Clinton is involved too.
Reportedly the documents show that Hillary used her position as Secretary of State o set up meetings between Chelsea's childhood friend Jacqueline Newmyer-Deal, a hedge fund President, and top Pentagon officials.
Series of emails, reveals that Newmyer-Deal expressing her gratitude to Chelsea for setting up these meetings, which garnered the former's company more than $1.3 million from the federal government.
Newmyer-Deal wrote: "I met with Michele's other deputy yesterday," referring to Hillary crony Michele Flournoy. "We had a productive discussion about Iran and developments in maritime Asia. We also discussed contract vehicles and mapped out what we need to do so that we can go to work! I am very grateful for everything you have done."
The Clinton's criminal activities never seem to end! It's time for a special prosecutor to handle all of these criminal offenses. It's totally disgusting to see Clinton's get away with so many crimes!
For things to be clear- The Code of Federal Ethics states that government employees "shall act impartially and not give preferential treatment to any private organization or individual."
Obama and the Clintons are so deep into our government it would blow our minds. They have used every crooked and illegal method to enrich themselves and NOBODY stood in their way.
The Clinton Foundation and its worldwide money laundering have never been investigated. Why? They are above the law. From illegal spying, including electronic surveillance on everyone at will. WHO will demand an investigation?
Luckily, President Trump is trying to Drain the Swamp but needs every American to stand up with him so he can end up this fiasco!!!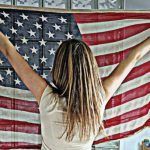 Natalie D. is an American conservative writer! Natalie has described herself as a polemicist who likes to "stir up the pot," and does not "pretend to be impartial or balanced, as broadcasters do," drawing criticism from the left, and sometimes from the right. As a passionate journalist, she works relentlessly to uncover the corruption happening in Washington.She is a "constitutional conservative".