Awkward Silence After Pelosi Is Asked If She's Ever Met With Russian Ambassadors
After Nancy Pelosi accused Republicans of "splitting hairs" over Jeff Sessions' reported meetings with the Russian ambassador, she did the very same thing when she was asked a similar question.
Reporter: "You've been in Congress a little bit..uh and you're in leadership..have you ever met with the Russian ambassador?"
Pelosi: (Awkward silence) "Not with this Russian ambassador, no. But it.. it uh uh…"
Typical Democrat answer. "Not this Russian ambassador". Oh ok, you met with the good Russian ambassador and Trump's people clearly met with the evil one that was plotting to overthrow the USA.
This is just one example more of them justifying things they did after criticizing others for doing the exact same thing.
But, not only she met other Russian ambassadors, she met THIS Russian ambassador too! And here is a picture to prove it!

What's a matter Nancy…can't you remember???

Reporter: "Is there anything wrong with, I mean is it normal to meet with ambassadors? Or what? Tell..help us understand.."
Of course it's normal to meet with ambassadors as part of the job. It's that simple…
Watch the video:

It's time this woman to stop spreading lies and to resign…
For the good of this country!!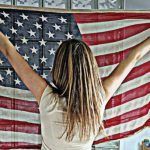 Natalie D. is an American conservative writer! Natalie has described herself as a polemicist who likes to "stir up the pot," and does not "pretend to be impartial or balanced, as broadcasters do," drawing criticism from the left, and sometimes from the right. As a passionate journalist, she works relentlessly to uncover the corruption happening in Washington.She is a "constitutional conservative".