Nancy Pelosi Just Gets Some Career Ending News From The Democratic Party (VIDEO)
Nancy Pelosi is a failure. A creature of the DC swamp, she has never held a real job in her life. She married into a lot of money, then spent that haul buying influence in DC and a seat in Congress from liberal San Francisco.
Rep. Tim Ryan (D-Ohio) recently called Pelosi "toxic" and slammed the way she is running the Democratic Party. Ryan said it will be "very hard" for Democrats to take back control of the House in 2018 with Pelosi in charge and called for new leaders from a younger generation.
Towards the end of House Minority Leader Nancy Pelosi's interview on Fox News, Chris Wallace brought up recent calls for fellow Democrats to bring younger, fresher faces into party leadership. Watch the video below!
"It's going to be more challenging, certainly," Ryan said. "You see these commercials that tie these candidates to Leader Pelosi week in and week out in the last several months. That still moves the needle, you know?"
Rep. Seth Moulton (D-Mass.) agreed, arguing that it's "time for a change." Moulton predicted a "pretty significant uprising in the House Democratic Caucus" if new Democratic leadership isn't in place by the 2018 midterms, The Blaze reported.
"What we've got to do, not just for our party, but I think for so many American people, is start winning again," said Moulton, who is 38. "Start bringing some balance back to Washington and start winning with leadership that the American people can trust, not the old, tired Democratic partisan leadership, but really a new generation of leaders who are going to put the country first."
During an interview with Fox News host Chris Wallace on Sunday, Pelosi showed that she is in total denial about her own situation.
After a few special election losses this year, Wallace brought up the concerns of some Democrats that Pelosi and other Democratic leaders "are, frankly, too old."
Wallace then asked, "Do Democrats need new leaders with new ideas?"
"I am a master legislator. I know the budget to the nth degree. I know the motivation of people. I respect the people who are in Congress," Pelosi told host Chris Wallace while defending her ability to lead the Democratic Party back to a majority in the House of Representatives.
"I feel very confident about the support I have in my caucus," Pelosi said.
Nancy Pelosi is an embarrassment to all Democrats and Americans in general.
Pelosi and most of the career politicians should go, without a retirement!
What do you think about this?
Scroll down to leave a comment below!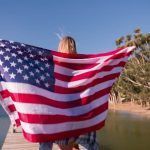 Michelle is American conservative author she is committed to the constitutional principles of individual freedom, economic liberty, limited government, personal responsibility, and traditional values. She is a libertarian and provocateur who believes in freedom and liberty for all Americans. As a passionate journalist, she works relentlessly to uncover the corruption happening in Washington, while exposing politicians and individuals who wish to do us harm.