Muslims Attack Christians In America Over Sharia Law
It is a fact that Muslims don't want to be Americans, they just want to push their agenda on us.
Muslims are not here to assimilate into our culture, but instead, they are trying to push their own culture onto us.
And the more Muslims you import, the pushier they get.
If the following video tells us anything it's that Muslim immigrants do indeed have a dream, but it's not the American dream.
It's a dream of America SUBMITTING to Sharia Law.
This is disturbing video and it's going on in our country! It shows, a gang of Muslim thugs surrounding a Christian in Dearborn, Michigan and attacks him for not being Muslim.
[youtube https://www.youtube.com/watch?v=u7qP1nVidXk]
Good thing is that police and local security intervened and put down the assailants. But the scary thing is that this is happening – not in the Middle East or Europe – right here in our own backyard, and its needs to be stopped.
It seems to me that Muslims are as much if not more the enemy to American citizens than any War the USA has been involved in! They are determined to rule America by Sharia Law which they feel gives them the right and obligation by their God to kill anyone who will not conform to their ideology!
Anyone in their right mind should support President Trump. It's time Americans to stand up together united with our president and fight for what's ours. These people need to be removed from America because they have no intentions of following the American way, laws, and constitution.
Wake up America!!! The insanity must end NOW! We need to support President Trump before it's too late!!
We need to show them that this is our country.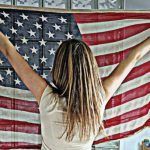 Natalie D. is an American conservative writer! Natalie has described herself as a polemicist who likes to "stir up the pot," and does not "pretend to be impartial or balanced, as broadcasters do," drawing criticism from the left, and sometimes from the right. As a passionate journalist, she works relentlessly to uncover the corruption happening in Washington.She is a "constitutional conservative".