A Muslim Man Died From Inhaling Fumes After He Burned The American Flag
We do not burn flags of other countries, nor ruin their churches or harm their people. We live the American Constitution, love one another and stand for our freedoms.
But that is not what others do!!!
Burning an American flag happened to be deadly for Abdullah Ismail a Pakistani protester, who died from inhaling fumes after he burned the American flag!!! Perhaps the lesson to be learned here is that messing with the icon of independence can be really dangerous to your health.
Abdullah Ismail died in Mayo hospital in Lahore having complained of feeling sick during the angry demonstrations in the eastern Pakistan city as demonstrators chanted anti-U.S. slogans before setting fire to an American flag outside the U.S. Consulate, while some tried to bridge the wall of the building and fighting with baton-wielding police.
The demonstrations were organized on the city's landmark mall by the Tehreek Hurmat-i-Rasool. Despite a ban on rallies on The Mall, local officials blocked off the road leading to it from noon to 6 p.m., apparently to facilitate the event.
This is so wrong!
He is burning the very thing that represents the people who fought brave for our country and gave their lives for it and yet they all want to come to the USA for one reason or another…
Knowing what kind of people they are, I don't know why Democrats are still against President Trump's executive orders. After all, it is obvious that everyone would benefit from it.
However, every action has a reaction! What this man did had a huge consequence for him! This only proves that when one engages in any type of destruction or desecration, such as destroying holy things, BAD KARMA will follow you!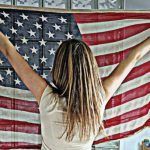 Natalie D. is an American conservative writer! Natalie has described herself as a polemicist who likes to "stir up the pot," and does not "pretend to be impartial or balanced, as broadcasters do," drawing criticism from the left, and sometimes from the right. As a passionate journalist, she works relentlessly to uncover the corruption happening in Washington.She is a "constitutional conservative".