Morning Show Host Tried A Klaus Schwab Cricket For Breakfast – Her Reaction Is Straight From A Comedy Movie
Looks like they do want us to eat crickets after all as the Justin Trudeau government has spent millions on this idea since then the US government took similar actions.
There was a lot of talk on social media last year that governments around the world, in conjunction with the World Economic Forum, were pushing a diet of insects. CBC dismissed the idea as a conspiracy theory of the far right, Bloomberg did the same, as did National Public Radio in the United States.
Meanwhile, the Canadian Taxpayers Federation looked at where grants and contributions were going and found the Trudeau government has offered up $9.27 million to several companies to help them develop products. The largest contribution was $8.5 million to Aspire Food Group Ltd. through the federal government's Agri-Innovate Program.
The stated goal of the contribution, which may or may not be paid back, is to support "the building of a commercial demonstration facility in London, Ont., to produce crickets for pet, human, biomedicine and agrochemical markets."
According to Aspire, most of their cricket protein goes into pet foods, but they are looking at human consumption as well.
"Research indicates that one in five Americans have tried crickets and more than half of adults can be persuaded to consume them in their diet, a trend that continues to increase as more consumers seek healthier and environmentally superior proteins," the company's website says.
They even tried to "advertise" this during a morning show but the whole thing looked like a comedy movie!
The Morning Show host Carolyn MacKenzie ate a roasted cricket during a cooking segment and bugged out.
Video below:
OPINION: This article contains commentary which reflects the author's opinion
Reminder: The purpose of the articles that you will find on this website, are to EDUCATE, not to disinform or grow hate and anger!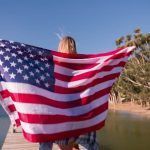 Michelle is American conservative author she is committed to the constitutional principles of individual freedom, economic liberty, limited government, personal responsibility, and traditional values. She is a libertarian and provocateur who believes in freedom and liberty for all Americans. As a passionate journalist, she works relentlessly to uncover the corruption happening in Washington, while exposing politicians and individuals who wish to do us harm.