WATCH! Man Who Lit Patriot's Front Porch US Flag on Fire Learns Why You Don't Do That To a Patriot!
If you don't love and respect this country, if you don't love to see our country's flag flying in the breeze and know what was sacrificed so we can live in the best country in the world then leave!
26-year-old Andrew Rosas turned himself at Richmond Police headquarters on Wednesday after his face appeared all over the news thanks to the homeowner's security camera. Roson was caught on video setting fire to an American flag hung outside a Richmond home. For this crimeRosas has been charged with arson, according to WTVR-TV in Richmond.
The homeowner James Tanner obviously irate over the act of vandalism said that Rosas disregarded the safety of everyone in his home as well as what the American flag represents. Tanner's neighbors called the incident troubling.
Tanner's neighbor Joseph Lawson said: "The whole front porch could have caught on fire. Now, knowing it was one of my neighbors, my house could have caught on fire. So it could have been a really bad situation. You got to know how controversial that is, whether he's trying to make a protest or not."
But, unfortunately for Rosas, he may have made one big miscalculation in what he might have felt was a minor act of vandalism. WTVR-TV explained:
In Virginia, burning a flag with malice is against the law and can result in a misdemeanor criminal charge.
The charred flag pole was still attached to the home Wednesday afternoon, and CBS 6 legal analyst Todd Stone said that detail could result in a felony charge.
"That makes it a much more serious offense because it could catch the house on fire and cause risk to the people inside."

When did our flag become unwanted and despised in our Country? I don't understand what would drive an American-born person to burn the flag in public. I guess that's the only way these people can get attention.
But, this just ain't right. It's a shame he has no respect for the country he lives in. Burning the flag of the country that gives you the rights to live however you chose…it is beyond sad!
Throw the book at him and make sure the result is widely known. It's time for this intolerance ends. If it takes harsh sentences and prison terms, so are it.
What do you think about this? Scroll down to leave a comment below!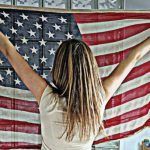 Natalie D. is an American conservative writer! Natalie has described herself as a polemicist who likes to "stir up the pot," and does not "pretend to be impartial or balanced, as broadcasters do," drawing criticism from the left, and sometimes from the right. As a passionate journalist, she works relentlessly to uncover the corruption happening in Washington.She is a "constitutional conservative".