Left Wing Comedian Sarah Silverman: "Show Us Your F****** Taxes, You Emotional Child"
On Saturday, left wing, comedian, Sarah Silverman joined in the anti-Donald Trump "Tax March" protest in New York City. From there, she demanded President Trump to release his tax returns.
The 46-year-old comedian and liberal addressed to President Trump: "Show us your f*cking taxes, you emotional child."
Silverman added: "You like being a superficial bully? Here's one for you: you are a three at best."
Calling President Trump an emotional child and superficial bully, while acting like both…Perfect hypocrisy!
Silverman is known for supporting Hilary Clinton for the presidential race and supporting Senator Bernie Sanders early on. Then she trashed Republican nominee Donald Trump every step of the way.
In an interview given for MSNBC, Silverman said that "It's time to fight for our country."
That's where we agree with her, and that is exactly what President Trump is doing!!! He is fighting for our country!
Silverman said: "I'm from New Hampshire, my parents are… and that's what we do. Love America, you love your country. You have to speak out and speak up. It's time to fight for our country."
"I was raised to know that it's an honor to pay taxes and it's important to pay taxes," she added. "It's part of being an American citizen, and helping each other."
.@SarahKSilverman at Trump #TaxMarch: "When you love America… you have to speak out… it's time to fight for our country" via @MorganRadford pic.twitter.com/7ugKt3FXJH

— Bradd Jaffy (@BraddJaffy) 15 April 2017
//platform.twitter.com/widgets.js
Everyone has to remember, that these people make money by staying relevant, and always need to stay in front of the public eye. They try so desperately using President Trump, to gain any kind of attention so people talk about them, whether it's good or bad they don't care.
Fortunately for us, they are so stupid, because it always backfires on them, and they become even more irrelevant. Sarah who???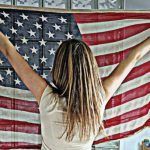 Natalie D. is an American conservative writer! Natalie has described herself as a polemicist who likes to "stir up the pot," and does not "pretend to be impartial or balanced, as broadcasters do," drawing criticism from the left, and sometimes from the right. As a passionate journalist, she works relentlessly to uncover the corruption happening in Washington.She is a "constitutional conservative".