ILLEGAL Immigrant Whines On National TV: Donald Trump Is a THREAT TO WAY OF LIFE in "OUR" Communities
One of President-elect Donald Trump's most oft-repeated promises on the campaign trail was that he would make our country great again and he will deport millions of illegal immigrants who were living in the United States. Now, that Donald Trump is the president-elect, it's clear that he is wasting no time to put that plan into action.
But as you can guess, those illegal immigrants are not so happy because of this.
Greisa Martinez, the director of the United We Dream Network, appeared on MSNBC to tell America that Republican President Donald Trump is "a threat to the way of life in our communities." During the interview, she stated that President Trump's policy of deportation of millions of illegal immigrants is a concern to our country!
Martinez said: "For people like myself that are undocumented and have undocumented family members, it's been clear from day one that he wants to enact mass deportation. He wants to deport me and my mother. That is crystal clear for all of us. But this in and out and softening or not is just erratic behavior and concerning to our country."
"As someone whose father was deported eight years ago, I understand the pain that brings to communities. But Donald Trump wants to make something that's already bad and toxic and make it worse. He has promised to increase the force by triple in the community. He has promised to deport people like myself and my families and U.S. citizen children along with them. So I think that Donald Trump is a threat to the way of life in our communities,"- she added.
I don't understand how so many people, who have lived here illegally for many years, are now so irate and upset that illegals have to go home. Why didn't you do anything about getting your documents in order all those years? You violated your temporary visa if you even had one, and the laws of our country. It's just not the way it works. Makes me annoyed to hear so much nonsense by offenders of our laws.
We have news for her. The majority of American voters sincerely hope that President Donald Trump will threaten her life all the way to deportation. They will vote for Trump in 2020 so that he can finish the job.
Thanks for pointing out you are undocumented. Guess what you have won an All expense paid trip back to where you came from.
What do you think? Share this article with your friends!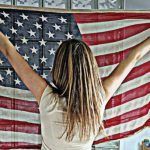 Natalie D. is an American conservative writer! Natalie has described herself as a polemicist who likes to "stir up the pot," and does not "pretend to be impartial or balanced, as broadcasters do," drawing criticism from the left, and sometimes from the right. As a passionate journalist, she works relentlessly to uncover the corruption happening in Washington.She is a "constitutional conservative".