If You Don't Own A Gun This Ring Doorbell Footage Will Have You Running To The Gun Shop And Make An Immediate Purchase
In a recent video that could easily be mistaken for footage from South America, the stark reality hits closer to home—it unfolds right here in the U.S., within the Chicago suburbs. The scenes depicted prompt contemplation: What if this were your residence, your spouse, or your daughter.
Video below:

Out of respect for the family we opt to refrain from saying where exactly but it's a southside Chicago neighborhood.
This family was unaware they were likely followed home by the attackers. Please be aware of your surroundings as these attacks are happening with increased frequency in the Chicago area. We support this family and hope the criminals are apprehended and brought to justice.
One-fifth of U.S. households purchased guns during the pandemic, a national arming that exposed more than 15 million Americans to firearms in the home for the first time, academic studies show.
Americans purchased nearly 60 million guns between 2020 and 2022, according to an analysis by The Trace, a nonprofit, nonpartisan news organization that tracks gun violence. Yearly gun sales are running at roughly twice the level of 15 or 20 years ago.
But even after the pandemic ended people still wanted to get more guns because of situations like the one in the video above.
This ring doorbell footage will have more people running to the gun shop and making an immediate purchase.
OPINION: This article contains commentary which reflects the author's opinion
Reminder: The purpose of the articles that you will find on this website, are to EDUCATE, not to disinform or grow hate and anger!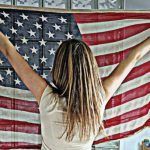 Natalie D. is an American conservative writer! Natalie has described herself as a polemicist who likes to "stir up the pot," and does not "pretend to be impartial or balanced, as broadcasters do," drawing criticism from the left, and sometimes from the right. As a passionate journalist, she works relentlessly to uncover the corruption happening in Washington.She is a "constitutional conservative".