Hockey Player Says: 'I Am Done Raising My Fist' …His Reasons Are More Than Justified
Information is knowledge…knowledge is power… Power is an ability to act… If more people would take the time to understand what an officer goes through or put themselves in their shoes they will understand.
There may be hope yet. Tampa Bay Lightning right wing J.T. Brown who was among the first players in NHL who raised his fist during the national anthem. However, he now opened his eyes after interim Tampa police Chief Brian Dugan invited Brown to go through a police simulation to learn what law enforcement officers face every day.
Luckily, he has been willing to hear and learn about the other side. So, after he learns more about the work police do, he decided he will no longer protest during the national anthem.
"When I began my peaceful demonstration, I wanted to bring awareness to police brutality, racial injustice, and inequalities. I also wanted to show that these issues were not going unnoticed by the hockey community. I am incredibly thankful for my team's support. I understand that this issue cannot be resolved overnight, nor can I do it alone," he wrote in a statement shared on Twitter.
He added: "I am done raising my fist. I am now using this support, opportunity, and platform to call out everyone who agreed or disagreed with me to help by sharing suggestions, continuing respectful conversations and looking for ways they too can help make a difference in their community."
He shouldn't have staged his protest during the National Anthem in the first place. But, he was open enough to listen and see what it's like through the law enforcement eyes after they reach out to him and. Glad he took the time to get a better understanding of what is really going on within the community and looking for ways to help.
Congratulations to him and the police department for reaching out to each other to find common ground to work for solutions. NFL could do the same if they want to really make a difference in the lives of young black men.
What do you think? Scroll down to leave a comment below!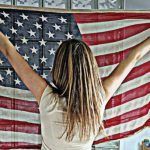 Natalie D. is an American conservative writer! Natalie has described herself as a polemicist who likes to "stir up the pot," and does not "pretend to be impartial or balanced, as broadcasters do," drawing criticism from the left, and sometimes from the right. As a passionate journalist, she works relentlessly to uncover the corruption happening in Washington.She is a "constitutional conservative".