HEAD SHOT! Hillary Clinton Is Panicking After Judge Pirro Literally Destroyed Her On Live TV
Judge Jeanine Pirro slammed Hillary Clinton on Fox News after she tried yet again to push her political agenda and blamed conservatives and President Trump about the Las Vegas shooting.
On "The Tonight Show With Jimmy Fallon" on Wednesday Clinton said: "I can't believe that one whole political party in the greatest country on earth is totally sold to the gun lobby."
Our grief isn't enough. We can and must put politics aside, stand up to the NRA, and work together to try to stop this from happening again.

— Hillary Clinton (@HillaryClinton) October 2, 2017
But Judge Jeanine decided enough is enough and sent a direct message to Hillary! She described Clinton as a cold calculated woman on the road to power by any means possible."
Judge Jeanine said:"Hillary, there's a reason you lost the election. As Americans come together, you seek to divide, not empathize, showing just how hollow a tin man you are."
"We Don't Blame All Muslims for Terrorists, Don't Blame All Gun Owners for Las Vegas."
"Just as we cannot blame all Muslims for the actions of a few, how about you not blame all gun owners for the actions of Paddock," Judge Jeanine said.
"How dare you connect law-abiding citizens exercising our second amendment rights to a mass murderer of innocent civilians," the judge continued. "How dare you call us 'complicit' with a wack-job, a misfit, who is the epitome of evil."
"Hillary, stop trying to be Joan of Arc. Your words ring hollow."
That was amazing, Judge Jeanine!!! Hillary of all people should never talk about gun control after all the bodies that have piled up on Her watch. But I guess if she could unarm all of us then she could get rid of her enemies easier!
Our forefathers had the right idea & insight to write the 2nd amendment "Right to Bare Arms" against tyrannical groups like the ones you support Hillary! Hillary needs to go to the woods and stay there until she realizes that SHE LOST THE ELECTION!!!
What do you think? Scroll down to leave a comment below!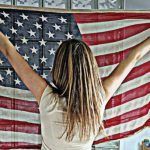 Natalie D. is an American conservative writer! Natalie has described herself as a polemicist who likes to "stir up the pot," and does not "pretend to be impartial or balanced, as broadcasters do," drawing criticism from the left, and sometimes from the right. As a passionate journalist, she works relentlessly to uncover the corruption happening in Washington.She is a "constitutional conservative".