Grandfather Shoots At 3 Man Who Attempted To Rape His Teen Granddaughter
Justice comes in many forms – sometimes it requires a strong resolve – other times a shotgun!
3 young masked men named Brandon Carver Stephens, Jamar Hawkins and Jamie Lee Faison were killed after they broke into a home and tried to rape a teen girl who lived there. Robeson County Sheriff's officials said that the grandfather of the teen shot the 3 man.
No one is safe, not even in their home. We have the right to protect ourselves, and our loved ones. The incident started around 10 pm at a house on Yedda Road in Lumberton when someone knocked on the home of the grandfather, his wife, and their 19-year-old granddaughter, according to the sheriff's office.
The man who were all wearing black clothes, ski masks, and gloves — rushed into the house and begun stealing items from inside the house. At the same time, they sent the grandfather and his wife in the back of the house and were directed at gunpoint to open a safe. The three men were all armed and tried to rape the teen girl.
Unfortunately, one of the men shoot the grandfather, but luckily he was still able to shoot the suspects in the home-invasion and attempted rape. After that, all three wounded suspects fled in the grandfather's car, but luckily, the sheriff's office was contacted when 2 men with gunshot wounds showed up at McLeod Hospital in Dillon.
Deputies received information that took them to Singletary Church Road near Lumberton where they found Jamie Lee Faison, age 20, dead inside the stolen Cadillac. He died from gunshot wounds, deputies said.
Thank God for the Second Amendment! This is another reason why we need to be allowed to carry a gun!
The grandfather did the right thing, he protected his family. He did the right thing for his grand daughter. Sadly, according to the insane progressive liberals, if the homeowner didn't have a gun everyone would be safer and no one would have gotten hurt.
What do you think? Scroll down and leave your comment below!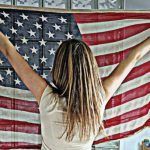 Natalie D. is an American conservative writer! Natalie has described herself as a polemicist who likes to "stir up the pot," and does not "pretend to be impartial or balanced, as broadcasters do," drawing criticism from the left, and sometimes from the right. As a passionate journalist, she works relentlessly to uncover the corruption happening in Washington.She is a "constitutional conservative".