Fox News Just Dropped An Absolutely Devastating Bomb On Democrats (Video)
The issue is that the Democrats could not win the election so they are sabotaging this President! So the thing is no matter if something is wrong or right, the Dems will totally ignore or attack anything they don't agree with so they will pay no attention to the truth and keep on spreading anarchy.
Luckily, Fox News host Jesse Watters stepped up and spoke in the name of all patriots.
Waters wants the public to remember that most of the Confederate war heroes were in fact, members of the Democratic Party. All these Confederate statues representing the Democratic party at that time. Democrats have a problem with THEIR history!
He also reminded people that destroying monuments isn't what Americans do.
He said: "Let's remember that all of these Confederate war heroes were Democrats. Maybe the Democratic Party wants us to take down these statues so we can forget that it was the Democrats who supported enslaving black people."
He continued: "I think that many on the left want to destroy any historical monuments of great American leaders. A bust of Abraham Lincoln in Chicago was torched. He was the one that freed the slaves."
You hit the nail on the head, Jesse Watters. Exactly what the Democrats don't want to hear.
The sad thing about this is, 99.09% of the protestors have no idea that the statues were of Democrats, erected by Democrats. Isn't it strange that during the 8 Obama years, no one found any of the statues offensive?
However, the truth is low on their list of priorities. Who was the party of slavery, who was the party of Jim Crow & segregation? Who opposed the Civil Rights Movement? Who opposed voting rights? It was all the Democrats." Dr. Ben Carson…. And the Democrats still have slaves, but they call it the Welfare System!
What do you think? Share this article with your friends on Facebook!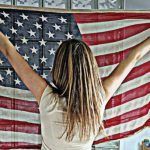 Natalie D. is an American conservative writer! Natalie has described herself as a polemicist who likes to "stir up the pot," and does not "pretend to be impartial or balanced, as broadcasters do," drawing criticism from the left, and sometimes from the right. As a passionate journalist, she works relentlessly to uncover the corruption happening in Washington.She is a "constitutional conservative".