They Found It! Major Voter Fraud Just Uncovered, and It All Points Towards Bill Clinton
The leftists have invested decades in the illegal voter scam. Everyone knows the democrats are doing their best not to allow cleaning of voter registrations or requiring photo ID. Getting fraudulent votes as long as they win. On Wednesday, City Commissioner Al Schmidt revealed that hundreds of illegal immigrants were registered to vote in Philadelphia over the last decade, and at least 90 of them actually ended up casting ballots that should never have been allowed thanks to Democrats and their "motor voter" law passed in 1993 by which the states are forced to sign up voters while they get their driver's licenses.
Sadly, Philadelphia is just one in hundreds of voter farming cities that Democrats have created!With pushing motor voter law, Democrats knew exactly what they were doing.
Via Washington Times: "The voters are all self-admitted noncitizens who went back and canceled their registrations later — but not before casting illegal ballots a total of 227 times in elections in 2006 and 2007.
He said most of those noncitizens signed up to vote at PennDOT, the state motor vehicles bureau when they went to get a driver's license. While legal residents and long-term visitors are allowed to hold licenses, they are not allowed to vote in federal elections — yet thanks to a federal law, the sign-up for both licenses and voter registration is often tied together.
"The current voter registration process at PennDOT is both harmful to election integrity and to members of the immigrant community seeking citizenship," Mr. Schmidt said.
The data offers a boost to President Trump, who has claimed voters are tainted by noncitizens casting illegal ballots.
While Mr. Trump's claims of millions of such votes have not been substantiated, Philadelphia's data does show that fraudulent voting happens — contradicting the claims of voting rights activists who said it is so rare as to not be worth investigating."
Clinton is going to have to re-write that chapter in her book for the popular vote win soon. Just shows Obama had the advantage too. No surprise.
This is the main reason they can`t accept Hillary`s loss. They had everything so rigged in her favor that they thought they had it in the bag. They just can`t believe that they still got beat after going to such great lengths to make sure she won. That witch and her cronies would have done anything possible to win even if it was illegal.
What do you think? Scroll down to leave a comment below!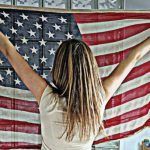 Natalie D. is an American conservative writer! Natalie has described herself as a polemicist who likes to "stir up the pot," and does not "pretend to be impartial or balanced, as broadcasters do," drawing criticism from the left, and sometimes from the right. As a passionate journalist, she works relentlessly to uncover the corruption happening in Washington.She is a "constitutional conservative".