Floyd Mayweather Pissed Off Liberals With What He Said About Trump
I bet you know by now that American boxer Floyd Mayweather is one of the all-time greats of the game. But, I suppose some of you don't know that Mayweather is a friend to President Trump. Well, who would have known this? After all, the mainstream media saying Trump hates black people!
After Donald Trump was elected president Floyd Mayweather made his way to New York City to have a meeting with him at Trump Tower.
In a video, Mayweather told TMZ Sports: "Y'all going to see me in D.C. Y'all going to see me in D.C. looking good. I got my tux and everything ready. All black (tie) affair."
Earlier, when asked about his thoughts on Trump, Mayweather showed his support:"The only thing we can do is keep our fingers crossed and hope for the best."
Besides he is the best boxer in the world, Floyd Mayweather is a very smart individual. He is a true American who respects what is true and good for America. We need more role models like him!!!
After all, Trump and Mayweather have something in common- they are both winners. Great president and great fighter= great country!
Thank you, Mayweather and all those that support our President. To those who don't, you are welcome aboard anytime!
What do you think?
Scroll down to leave a comment below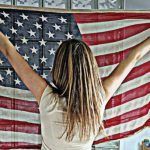 Natalie D. is an American conservative writer! Natalie has described herself as a polemicist who likes to "stir up the pot," and does not "pretend to be impartial or balanced, as broadcasters do," drawing criticism from the left, and sometimes from the right. As a passionate journalist, she works relentlessly to uncover the corruption happening in Washington.She is a "constitutional conservative".