FBI Reveal That Clinton Lied About Security Clearance
Hillary Clinton's tangled web of lies may have finally tripped her up.It has been exposed that Hillary Clinton either lied to the FBI or lied on her State Department non-disclosure agreement.Hillary Clinton said "I don't recall" 35 times during FBI questioning, it was revealed today. The former secretary of state told the FBI she did not know if she had security clearance and she did not receive training about dealing with classified information.
⇓VIDEO BELOW⇓
However it can be revealed that on January 22, 2009 Hillary Clinton signed a Classified Information Nondisclosure Agreement declaring that "I hereby acknowledge that I have received a security indoctrination concerning the nature and protection of classified information."
So did Hillary Clinton lie to the FBI? Or did she lie on the State Department form?
The form also notes that classified information is not always so marked, but is still regulated by the agreement.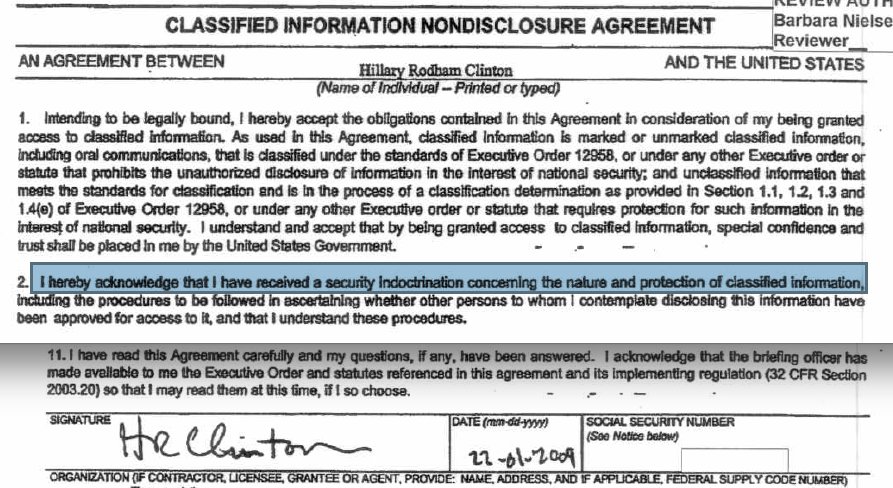 The moral of the story is that Hillary lied, one way or another.
 It was a serious lie too because it was a lie to the FBI, and lying to the FBI is a federal crime punishable with imprisonment! (you can read the full article below the video)
SHARE THIS ARTICLE ON FACEBOOK AND TWITTER IF YOU THINK THAT HILLARY SHOULD ANSWER FOR HER CRIMES AND DROP OUT OF THE RACE AND THAT MAINSTREAM MEDIA IS TRYING TO HIDE EVERY NEGATIVE INFORMATION ABOUT HILLARY CLINTON!
http://usasupreme.com/hillary-caught-lying-fbi-lying-fbi-federal-crime-punishable-imprisonment/