Democrats Make Efforts To Block Funding For Border Wall!
Senate Democrats are pushing ahead with their proposal to cripple President Donald Trump's presidency by blocking his campaign promise to build a secure border wall between the United States and Mexico.
They are saying that they will block any attempts to include President Trump's proposed border wall – or other far-right agenda items – in the $1 trillion spending package expected to be announced this week. And, they said, they are not opposed to shutting down the government if Republicans insist on including it.
This was made clear in a letter from Democratic leaders in the Senate, who said they were "concerned with reports that there may be an effort to include funding for a very expensive border wall" in a special budget planned for early 2017.
The letter which was signed by the Democrats' Senate leader, Sen. Chuck Schumer, and other Democratic leaders, including Democrat Sens. Dick Durbin, Sen. Patty Murray, Sen. Debbie Stabenow and Sen. Patrick Leahy said: "We believe it would be inappropriate to insist on the inclusion of such funding in a must-pass appropriations bill that is needed for the Republican majority in control of the Congress to avert a government shutdown so early in President Trump's Administration."
The letter was shared with a variety of media outlets before it was sent to the GOP leaders, including Majority Leader Sen. Mitch McConnnell.
"The letter also sought to protect other progressive priorities from Trump's budget cutting and policy changes, by saying Democrats would oppose any funding changes that would: roll back protections for our veterans, environment, consumers, and workers and prohibit funds for critical healthcare services for women through Planned Parenthood. We strongly oppose the inclusion of such riders in any of the must-pass appropriations bills that fund the government."
"The Democrats have some leverage over the GOP in the Senate because they can block legislation unless eight of the 48 Democratic Senators vote with the GOP to end a debate and schedule voting on a pending bill."
Even after all the anti-American programs and waste that Obama spent our money on for 8 years, the democrats are keep doing anything to prevent the protection of Americans in our own country.
Well, who didn't see this coming? This is no surprise. Most of us have known for decades that the Democrat party was more concerned about watering down the American voting block with foreign born voters to save their own party and positions of power.
After all, illegals, refugees, Muslims, welfare recipients and BLM are the base of the Democratic Party, of course they will oppose the wall.
H/T Breitbart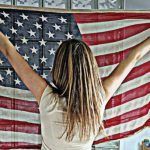 Natalie D. is an American conservative writer! Natalie has described herself as a polemicist who likes to "stir up the pot," and does not "pretend to be impartial or balanced, as broadcasters do," drawing criticism from the left, and sometimes from the right. As a passionate journalist, she works relentlessly to uncover the corruption happening in Washington.She is a "constitutional conservative".