Congressional Black Caucus Introduces A Bill That Will Force 'White People' To Pay Blacks Large Amount Of Money As An Apology For Slavery
Isn´t it funny how Black people who were never slaves, (and have to go back about 9 generations to get to relatives who were) are demanding White people, who were never slave owners to pay them reparations? Apparently, they don't read history…
That's why I think we all should write to Congressional Black Caucus with the inconvenient truth that the first slave owner was a Black man in the 1600's and by 1865 thousands of Black people were owned by Black slave owners and traders.
Joined by members of the Congressional Black Caucus, Democrat Representative John Conyers of Michigan introduced yet another in his long line of bills demanding that reparations be paid to African Americans for slavery that ended more than 9 generations ago.
A description of the bill said the legislation would establish a commission to examine the possibility of reparations, but also an apology for the "racial and economic discrimination against African-Americans."
Apparently, the bill is a response to the "fundamental injustice, cruelty, brutality, and inhumanity of slavery in the United States."
That is so racist!! Black Caucus is the biggest "Do-Nothing Congress" in history, and now they want more vacation, more pay, a housing allowance and now the White Man's money.
And people still wonder why a non-politician was put on Pennsylvania Avenue? The struggle is real for all of us who support such clowns with our hard earned tax dollars. Get these pathetic racist losers out of office. We must start replacing them with educated people who are not racist and will do positive things for all Americans.
I guess they do not realize that We the People of the United States don't owe them anything!! Instead, how about everyone pays back Medicaid, SS, food stamps, housing allowance, Obamacare subsidies, free cell phones, and I am sure there are other government programs our taxes pay. When I receive all the money that I have paid to the government for these types of programs then I will THINK about this.
Otherwise, it seems someone should be paying me.
What do you think? Scroll down to leave a comment below!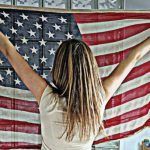 Natalie D. is an American conservative writer! Natalie has described herself as a polemicist who likes to "stir up the pot," and does not "pretend to be impartial or balanced, as broadcasters do," drawing criticism from the left, and sometimes from the right. As a passionate journalist, she works relentlessly to uncover the corruption happening in Washington.She is a "constitutional conservative".