Chuck Schumer Don't Have Answer To The Question "Who Can Beat Trump In 2020?"
American citizens are finally aware that Democrats are against America and they will destroy it if they had the chance. That's why Democrat party's chances of taking the Senate someday are between slim and none. And Slim just left town.
On Friday during a live interview with MSNBC's Kasie Hunt, Senate Minority Leader Chuck Schumer couldn't name single democrat who could beat President Trump in 2020.
Kasie asked Schumer for a short answer to the question "who in the Democratic party can beat President Trump in 2020?" to which Schumer replied: "Lots of people, prompting Hunt to ask him to provide just "one name."
He answered: "I'm not going to pick a name."
Hunt then asked Schumer: "Who's the leader of the Democratic party? You?"
Schumer: "Well we have a bunch of leaders. You know, I certainly am the leader of the Senate and I try to help represent the Democratic party."
Even thought the New York Democrat failed to come up with a leader for the Democratic Party, he said that if Trump continues for the next two years as he has started the first 100 days, the Democratic Party will be able to reclaim the Senate.
"It's much too premature to handicap 2020, but I'll tell you this. If the president continues in the rest of his first two years as he did in his first 100 days, there is a chance we could take back the Senate."
Chuck Schumer stumped, can't name even one Democrat who could beat Trump in 2020 election!

Psst.. The answer is none.😎 pic.twitter.com/Scdm4zkgCI

— Tennessee (@TEN_GOP) April 28, 2017
The Democrats have been trying to Plot out Trump's demise since he became President. I guess this means impeachment is a no go.
No Democrat will win for a long, long time. They just don't have the people's interest in their agenda. The people want an end to illegal immigration, a wall, an end to sanctuary cities, a good affordable healthcare plan, law and order, freedom of speech, a right to bear arms, good trade deals, prosperity, no wars.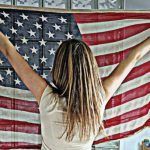 Natalie D. is an American conservative writer! Natalie has described herself as a polemicist who likes to "stir up the pot," and does not "pretend to be impartial or balanced, as broadcasters do," drawing criticism from the left, and sometimes from the right. As a passionate journalist, she works relentlessly to uncover the corruption happening in Washington.She is a "constitutional conservative".