Breaking! Nobody Expected What Hillary And Obama Just Did
Remember when former Presidents had class and just rode off into the sunset to quietly write their memoirs and relax and enjoy being done with the hardest job in the world? I guess those days are over. So, if anyone of you thought just for a second that the last time we are hearing about Obama is after President Trump was elected…then you are wrong. The same goes for Hillary Clinton.
Both former President Barack Obama and former Secretary of State Hillary Clinton are working on plans to campaign for Democrats in 2018, and Democrats worry they plan to change the direction of the Party.
Aides to Obama told The Hill's Amie Parnes he is looking to resurface on the national campaign stage. Parnes also reported Tuesday that Clinton is trying to sort out what role she might play in the midterm elections.
Although the pair brings a lot of fundraising firepower to a very crowded field of needy Democratic candidates, party insiders worry about who would control the party if either past candidate became too influential.
"He has to be careful," Julian Zelizer, a professor of history and public affairs at Princeton University told The Hill. "At a moment when President Trump's approval is falling so fast — including with his base — there is a risk for Obama taking center stage and triggering the energy that many Republicans currently lack."
Sadly, and arrogantly, Obama thinks he is helping them. He simply does not comprehend that the majority of Americans didn't want what he and the Democrats were selling. So we have Trump.
The Democratic National Committee's leaks revealed that members of the party worked with the Clinton campaign to ensure she received the nomination over Sen. Bernie Sanders, and she her reliance on Hollywood elites and overblown advertising campaigns failed to win over key minority voters in key states like Florida and Pennsylvania.
Despite those drawbacks, Clinton insiders argue that the former senator could help Democrats in states that she won over Trump in the 2016 presidential election.
"No one can argue that Clinton helping in those areas wouldn't be helpful," an unnamed Clinton source told Parnes. "That is a priority for her."
"For 30 years, Hillary Clinton has essentially been Old Faithful for Republican candidates,"strategist Doug Heye told The Hill. "Her continued prominence only helps GOP candidates with an electorate that historically is more favorable than what they faced in the last presidential election."
One Democratic strategist said Obama and Hillary Clinton should both "hang back at this point" so the party could be rebound. Some party members are worried that Clinton and Obama's presence could give the appearance of looking backward, the Hill reported.
The strategist said: We already lack a party leader, we lack a vision, we lack an identity. We can't remain stuck in the past."
Democratic strategist David Wade said: "Pundits are always going to over think and over analyze the pros and cons of having a former president on the campaign trail, but the truth is, there's little downside."
The only good news for Republicans is that under Obama's leadership and Hillary wanna-be president, the Democrats lost 1000 seats in state legislatures, Congress, and governors. This is why I welcome both Clinton and Obama to the trail. The two of them assisted so awesomely in helping Republicans and conservatives come out and support Trump. Way to go you both!
But, before that ever happens, I have a feeling that those two with countless others from both of Obama's administrations, will be arrested for treason first.
What do you think? Scroll down to leave a comment below!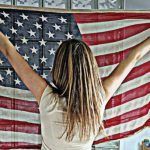 Natalie D. is an American conservative writer! Natalie has described herself as a polemicist who likes to "stir up the pot," and does not "pretend to be impartial or balanced, as broadcasters do," drawing criticism from the left, and sometimes from the right. As a passionate journalist, she works relentlessly to uncover the corruption happening in Washington.She is a "constitutional conservative".