BREAKING NEWS Out Of The NFL On Veteran's Day Weekend
NFL players protest is a national sick joke!! They picked the wrong forum and manner on this issue. The national anthem and flag are honored at sporting events for veterans that served and gave their life for our country. NFL players abuse women and yes there are some bad cops but Disrespecting Country, veterans, and a flag is a dishonor, not a protest!! The right to protest does not make it right!!
About two months President Trump called for football fans to boycott N.F.L. games unless the league fires or suspends players who refuse to stand for the national anthem, saying that players must "stop disrespecting our flag and country."
A Facebook group with more than 200,000 followers is planning an event to boycott all NFL games over Veterans Day weekend in response to what they perceive as disrespect to the American flag and national anthem.
Via Fox News Insider:
"We will be not be watching or listening to NFL games on November 12th in solidarity with veterans around the country, as football players have continued to disrespect the national anthem, the American flag, and everything our nation stands for," it says on the Boycott The NFL Facebook page.
On the Boycott The NFL Facebook page, several social media users explained why they are tuning out.
"I refuse to participate in an event that disrespects the United States of America. I despise anyone who disrespects those that have fought and those that gave their lives for our freedom. Keep taking a knee NFL and you will lose what fans you have left," one person said.
"I gave up the NFL after watching the first 'kneel' this season. I am done; I thought it would bother me, but College Football keeps me entertained. They allowed this disrespect to go on too long," another user said.
This would be a GREAT day to let the NFL know EXACTLY how important respect for the National anthem and the Flag are to Veterans and the people who love Veterans. So important that we will not participate in their two-faced attempt to "honor" Veterans one day while disrespecting us/them every other game day.
So keep boycotting. We may not see this year the big dip in ticket sales, but the proof is when you carry out boycotts for the long haul.
What do you think about this? Scroll down to leave a comment below!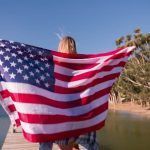 Michelle is American conservative author she is committed to the constitutional principles of individual freedom, economic liberty, limited government, personal responsibility, and traditional values. She is a libertarian and provocateur who believes in freedom and liberty for all Americans. As a passionate journalist, she works relentlessly to uncover the corruption happening in Washington, while exposing politicians and individuals who wish to do us harm.