Border Patrol Caught Two Illegal Immigrants Who Attempted To Smuggle Half A Million In Heroin
Border Patrol agents they have the right to protect themselves, not just from illegal immigrants, but from everyone who will try to attack them in order to do their criminal jobs! Daily our border enforcement agents uncover criminals and violators who are working on new innovative ways of smuggling drugs into our nation.
These drugs destroy our lives and our community. That is why we not only need the huge wall but we need more border patrol officers to prevent these criminal acts.
Daily Caller reported:
"Authorities caught two illegal immigrants attempting to smuggle nearly half a million dollars in heroin Wednesday hidden in caulking tubes at a California bus station.
U.S. Customs and Border Protection agents conducting routine checks of identification at a Greyhound Bus Station in Blythe, California made the arrests after finding two Mexican men in violation of their immigration status. Concealed in caulking tubes stuffed inside their luggage, agents found 19 packages of heroin, reports the Associated Press."
"Authorities seized more than 20 pounds of heroin and estimate the total value of the haul at more than $400,000. The unidentified men face immigration and narcotics charges, but authorities are not yet releasing specific information on the case.
So these two men get across the porous border and then hop a Greyhound bus? Would that more of these smugglers were so "creative."
This is no shock, and it is only going to get worse since we have so many bleeding heart liberals. Yet somehow Trump was a racist when he said Mexico is not sending their best. The truth hurts and when the left get hurt they feign outrage.
Our president was able to see some very dangerous things that are going on in this country. The border and illegal Immigrants flooding into our country.
The American people agreed and elected him to lead our legislators to correct these problems. Why would anyone support outlaws if they are serving us for the good of the country. They should have jumped on broad and helped our president.
And for the Border Patrol…They did outstanding job!! Keep up the good work! Thank you for all that you do.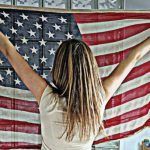 Natalie D. is an American conservative writer! Natalie has described herself as a polemicist who likes to "stir up the pot," and does not "pretend to be impartial or balanced, as broadcasters do," drawing criticism from the left, and sometimes from the right. As a passionate journalist, she works relentlessly to uncover the corruption happening in Washington.She is a "constitutional conservative".