Bill O'Reilly Slammed The Mainstream Media: That Is Beyond Anything I Have Ever Seen!
Fox News' Bill O'Reilly slammed the mainstream media on Wednesday's "The O'Reilly Factor" because of the way how the mainstream media treated the case of the two immigrant teens.
One of them is in the U.S. illegally and was accused of raping a Maryland high school student.
"ABC, NBC, CBS did not cover it on their nightly news broadcasts," O'Reilly said in his "Talking Points Memo." "CNN did not cover the Maryland story in primetime last night. Ditto MSNBC. That is beyond anything I have ever seen in my 40 years-plus of journalism."
Mr. O'REILLY is so right!! This is frightening! What is wrong with everyone? Do you really want to give this country to Muslims or to your children and grandkids?
He then continued: "We all know why. Illegal immigration is a political issue."
O'Reilly also accuse the media of "allowing the sanctuary [city] movement to pretty much run wild" by opposing President Donald Trump's hardline immigration policies.
He warned that "many Americans now have had enough of illegal immigration."
[There] comes a time when citizens of any country have to demand justice, have to demand protection, demand the law be respected. We have not, have not, come to that time yet in America" –  O'Reilly said.
[youtube https://www.youtube.com/watch?v=1Cv9bPs95hM]
Reilly is so very right. We need to band together and clean up our homeland. We are in dangerous times and we need to stop the illegals and question the Muslims once and for all. Let's not wait for a war to start.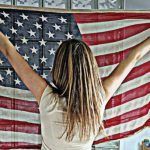 Natalie D. is an American conservative writer! Natalie has described herself as a polemicist who likes to "stir up the pot," and does not "pretend to be impartial or balanced, as broadcasters do," drawing criticism from the left, and sometimes from the right. As a passionate journalist, she works relentlessly to uncover the corruption happening in Washington.She is a "constitutional conservative".