Bill O'Reilly Drops A Truth Bomb Releases Devastating Details About Accuser's Credibility
Well, well, who would have thought? Perquita Burgess the woman who came forward with allegations that Bill O'Reilly harassed her while she was working at 21st Century Fox was reportedly arrested in Detroit in 2015 for filing a false felony report and for violating a personal protection order.
A Detroit Police report from Feb. 11, 2015, reveals Burgess's arrest on charges of making a false report and obstructing a court order. According to the police document, Burgess called police while claiming her boyfriend had struck her in the face with a gun. The police officer later said that Burgess appeared intoxicated when they arrived at the scene.
He stated: "I asked Ms. Burgess where the gun was that she was struck within the face, she replied there is no gun. I again asked her where the gun was, and if she had been assaulted. Ms. Burgess stated there was no gun, and he didn't assault me!"
Now, why doesn't that surprise me?
However, in April, legendary television host Bill O'Reilly was fired from Fox News after a series of sexual harassment allegations against him leaked to the public. This decision devastated millions of O'Reilly's loyal fans, who had watched him on Fox News for over two decades. The day after O'Reilly was fired, Burgess went on ABC's "The View," where she told the audience she noticed O'Reilly making a "grunt noise," or clearing his throat, when he passed by her desk.
Shame on her and shame on Fox News management. Unbelievable, they just took her word for it, the word of a serial liar and accuser. The charges were ridiculous. She needs to apologize to Mr. O'Reilly. Sadly, the damage is done. She got her 15 minutes of fame.
The true conservatives on Fox are going one at a time. The Liberals target anyone for sexual impropriety when they disagree with their fake news practices. They are doing their best to slowly knock down any conservative on Fox News.
Bill O'Reilly was the highest rated news commentator on Fox News. I guess the idea is, if you can take down the biggest guy, you can take down the entire network.
What do you think? Scroll down to leave a comment below!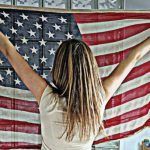 Natalie D. is an American conservative writer! Natalie has described herself as a polemicist who likes to "stir up the pot," and does not "pretend to be impartial or balanced, as broadcasters do," drawing criticism from the left, and sometimes from the right. As a passionate journalist, she works relentlessly to uncover the corruption happening in Washington.She is a "constitutional conservative".