Obama Was Bending Over 8 Years Ago When He Met With Japanese Emperor…But Look How Trump Handled the Situation
President Donald Trump and FLOTUS Melania Trump are currently on a five-country Asian tour, with Japan being their first stop. The pair touched down in Japan late Saturday ahead of their 13-day trip. Being there, they met with Japanese Emperor Akihito at the Imperial Palace in Tokyo, marking his first visit to the land of the key U.S. ally.
But, the thing that the public noticed was the greeting between President Trump and the Japanese king. Although according to Japanese culture the bow is considered as a form of respect for the emperor, Trump only pressed the hand of the emperor and the Empress.
Being a leader you bow to no one!!! This is how the leader of the free world, the most powerful leader of the world should address every other leader of the world.
And here is how Obama did it back in 2009. He was criticized for bowing before the emperor because the majority of the American public thought that this greeting made our country look inferior.
And while Obama was criticized numerous times for bowing to world leaders, this is how Trump handled the situation.
That's the difference between a REAL man (left) and a pseudo-man (right). One greets others as equals. The other, not so much. Obama was America's weakest President EVER. He bowed to everyone and spend 8 years apologizing for what he saw as a flawed nation when in reality he was what was flawed.
We should respect President Trump for putting his country first and standing his ground in not bowing to someone who should not be seen as any higher in rank than himself.
What do you think? Share this and comment: An American president bows to no one.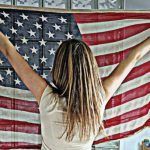 Natalie D. is an American conservative writer! Natalie has described herself as a polemicist who likes to "stir up the pot," and does not "pretend to be impartial or balanced, as broadcasters do," drawing criticism from the left, and sometimes from the right. As a passionate journalist, she works relentlessly to uncover the corruption happening in Washington.She is a "constitutional conservative".